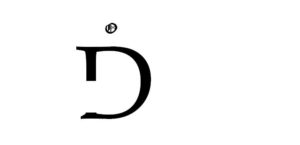 Moj monogram. Često ga koristim kao svoj elektronski potpis. Većina članaka koje sam lično napisao potpisani su ovim simbolom.
Sadrži početna slova mog imena i prezimena DJ. Pored toga, podseća me da je moguće svaku misao preneti u materijalni svet. Sve što zamisliš u svojoj glavi, to možeš i da ostvariš.
Prvi put sam postao svestan te činjenice kada sam monogram izrezao iz komada drveta i pretvorio ga u materijalni oblekat. Misao je postala stvarnost! Ako mi je to pošlo za rukom sa monogramom, zašto ne bi i sa svim ostalim mislima?!
Tog dana sam doneo odluku da ću prvo odrediti šta tačno želim, napisao sam to na papir i rešio da ostvarim sve stvari sa spiska. Ništa me neće sprečiti ili zaustaviti u tome. Ma koliko vremena da treba, ma šta da treba, savladaću svaku prepreku, uraditi sve što je potrebno da ostvarim svoje ciljeve.
Probaj, znam da je moguće!