"Sposobnost organizacije da kontinuirano stiče nova znanja, i brzo prevede
stečena znanja u akciju jeste jedina vrhunska poslovna konkurentna
prednost."
Jack Welch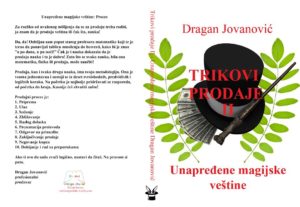 Ja bih dodao da se isto odnosi i na pojedinca. Čak i više nego na organizaciju. Svaki pojedinac stvara organizaciju i kontinuiranim učenjem osnažuje njenu poziciju na tržištu.
Kada je o prodaji reč, kontinuirano sticanje novih znanja i obnavljanje stečenog čine prodajnu silu stalno spremnom da se nosi sa novim izazovima koje postavlja tržište. Više nije dovoljno tehničko znanje da bi se nešto prodalo, već i tehnike prodaje, psihologija, ponašanje kupaca, bitni događaji itd.
Sve to tera prodavce da kontinuirano obogaćuju svoje znanje. Oni koji to ne čine, govore kako im je loša godina, mesec, čitav život.
U današnje vreme je to veoma lako promeniti. Puno je online kurseva, videa na Youtube, knjiga na željenu temu.
Tajna je u tome da kada nešto želiš da naučiš, čini to tako što ćeš učiti od eksperata. Najbolji u svakoj struci nisu bez razloga najbolji. To će ti uštedeti godine, možda čak i decenije potrage za znanjem. Bolje je da to vreme provedeš u investiranju nego u potrazi.
U svakom slučaju, sve veštine koje tebe sprečavaju da budeš ekspert u nekom polju se mogu naučiti. Dovoljna je samo volja!