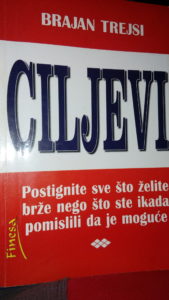 Nezaobilazna knjiga za sve one koji žele da postignu nešto više u životu. Za mene je bila tačka preokreta i odskočna daska za sve uspehe koje sam ostvario.
"Postigni sve što želiš brže nego što si ikada pomislio da je to moguće!"
Svaki put kada zapnem ja se vratim nekoj knjizi. Trenutno su to ciljevi. Redefinisao sam svoje i želim da sada uradim sve kako treba. Zato čitam baš ovu knjigu.
I svaki put je potpuno drugačije. Svakim novim čitanjem otkrivam stvari za koje nisam ni znao da su napisane u knjizi.
Naravno, preporučujem je svima bez zadrške. Posebno bih je preporučio onima koji se ne mire sa prosečnošću i žele od života više!
Specijalno je preporučujem @DjokerNole (Novaku Đokoviću), kome želim da poželim sreću pred novi masters. ?